Chirlin Family: Samuel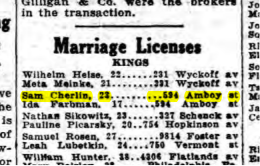 Marriage License announcement
Father: Morris Chirlin (or Cherlin)
Mother: Ida Leventhal Chirlin (or Cherlin)
Spouse: Edith (Ida) Farbman Cherlin
Children:
SS-5: Application for Social Security Account Number
Number: 068-03-9250

Name given to employer: Samuel Chirlin

Mailing Address: 310 E. 93rd St., Brooklyn NY

Employer address: Shapiro + Sons, 265 W 37th St.

Age on last birthday: 29

Date of birth: 4-8-07

Place of birth: Manhattan

Father's full name: Morris Chirlin

Mother's full maiden name: Ida Leventhal

Sex: Male

Color: White

Date: Dec. 1, 1936

Signature: Samuel Chirlin
---
Biographical information:
Born in Manhattan, April 8, 1907 (SS application) or April 6 according to Social Security.
Living in Brooklyn at 597 Amboy St. in 1940, with mother at 594.
Died in West Palm Beach, FL in May, 1976.
Listed as Samuel Cherlin by Social Security Death Index, and in the 1940 U.S. Census.
Married in Brooklyn, Jan. 5, 1930. Name given as Sam
Source: NYC Grooms Index Wife's name listed as Ida in the announcement of the marriage license. (Brooklyn NY Union Standard). (via Stew Cherlin)

Samuel's brother Charles applied for his social security number two weeks after Samuel, and used the spelling "Cherlin" on his form. At immigration, Ida and Isidor used "Cirlin"
"Chirlin" is the spelling used by the Druje line in the U.S. as well. According to Paul Chirlin, that is an unrelated line.
---
SS-5 from a collection by Gregory Cherlin. For information on Samuel's wife and descendants we rely on a family tree put together by Stanley Blum and Louise Ann Cotner, discovered by Stew Cherlin on genealogy.com.
---
From the 1910 census:
1940 Census:
Name
Relationship
Sex
Color/race
Age
Married?
School since
March 1, 1940?
Highest Grade
Birthplace
Citizenship?
Residence
April 1, 1935
At work (non-emergency)?
March 24-30
WPA etc.?March 24-30
Seeking work?
Job, business?
Housework, School, Unable, Other?
Hours worked
March 24-30, 1940
Unemployment (weeks)
to March 30, 1940
Occupation
Industry
Class
Weeks worked
1939
Income 1939
Manual?
Census Data: Stew Cherlin
---
Sources:
Family tree given by Stanley Blum and Ann Cotner, communicated to us by Stew Cherlin, 2000
Further information from Sam Haimm, 2017 Stew Cherlin
2000; 2017